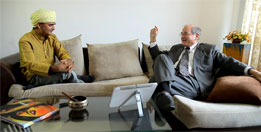 sourabh J. sarkar is a visionary pioneer in so many areas of learning it is hard to put a simple description on him.
Chuck Schreiner, KEN's MD – an American committed to increasing the reach and effectiveness of education – met sourabh almost a decade ago. Together they have painstakingly built KEN and an entire ecosystem to support access to meaningful learning by millions.
Watch
them in a fascinating conversation describing this journey.